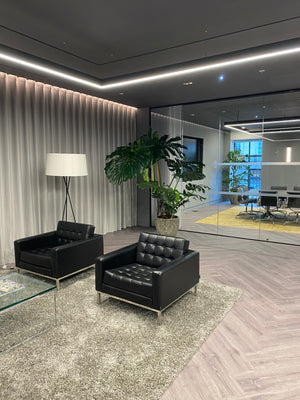 HOUSEPLANTS FOR HIRE
if you have an event or a project you can hire a wide selection of large and small plants directly from Happy Houseplants with planters and pots delivered. 
We can also offer strategic plant styling advice, pre event and tactical hands on support on the day with Happy Houseplants experts on hand throughout if need to help move and style plants {for your photoshoot for instance}. 
Our teams have many years experience supporting a wide variety of creative teams and events. 
OFFICE PLANTS
If you are looking to add beautiful indoor plants to your office, we can help. We are have an experienced team happy to help support your ambition to style your office. 
 Breathe life into old space, or create something brand new to help your people thrive. Turn your ideas into reality with Happy Houseplants. Partner with our plant experts to help you redefine your workplace and create beautiful spaces for your clients and employees,. 
 We help you optimise your workplace and create a great place to work. 
Trusted
Happy Houseplants has been featured and collaborated with some of the leading homewares brands and influencers in UK. Our beautiful houseplants and plant styling are unique. If you have a plant project please give us a call.
RESTAURANTS & CAFÉS INDOOR PLANTS
While what is on the menu is important in any restaurant, our obsession with botanically beautiful dining spots has reached the next level. 
What makes a restaurant utterly irresistible to customers – the kind of irresistible that gets you noticed on social media and puts you on the map quickly is plants.  
Whether it be a minimalist style Scandinavian cafe with a splattering of greenery, or a full-on greenhouse experience, we can help style your place so it has the wow factor. 
​Well chosen Plants and planters deliver a fantastic ROI updating tired spaces for a fraction of the cost of traditional makeovers. 
HOTELS AND HOSPITALITY INDOOR PLANTS
Plants create a great first impression, creating spaces of calm and relaxation after a hard days travel. Plants can be used effectively to separate spaces and people in a welcoming and subtle way. 
Plants also provide a fantastic ROI transforming a tired space instantly, for a fraction of the cost and inconvenience compared to any traditional makeovers. 
Plants also show you care, you and your teams have an attention to detail and work hard to make your hotel welcoming, healthy and pleasing for your guests.
INDOOR PLANTS FOR RETAIL SPACES
Adding greenery to your shop is a great way to create a welcoming space for customers. Products look better and sell more when enhanced with greenery and even the most jaded or wary shopper will be attracted to a beautiful plant while browsing your shop.
​Plants can be styled easily, as the seasons change creating moods and backdrops that compliment your changing inventory.  
​Happy Houseplants have worked with some the largest and most innovative global retailers to create beautiful and exciting retail spaces of greenery and pop up plant shops to celebrate events and create occasions to remember for customers. 
​Give our expert teams a call for more advice and help if your thinking of adding plants to your shops.